Succeed Interviews
Dream Data Job
Created by interviewers at top companies like Google and Meta for data engineers, data scientists, and ML Engineers
Never prep alone. Prep with coaches and peers like you.
Trusted by talents with $240K+ compensation offers at
How we can help you.
Never enter Data Scientist and MLE interviews blindfolded. We will give you the exclusive insights, a TON of practice questions with case questions and SQL drills to help you hone-in your interviewing game!
📚 Access Premium Courses
Practice with over 60+ cases in detailed video and text-based courses! The areas covered are applied statistics, machine learning, product sense, AB testing, and business cases! Plus, you can watch 5+ hours of pre-recorded mock interviews with real candidates preparing for data scientist & MLE interviews.
Join Premium Courses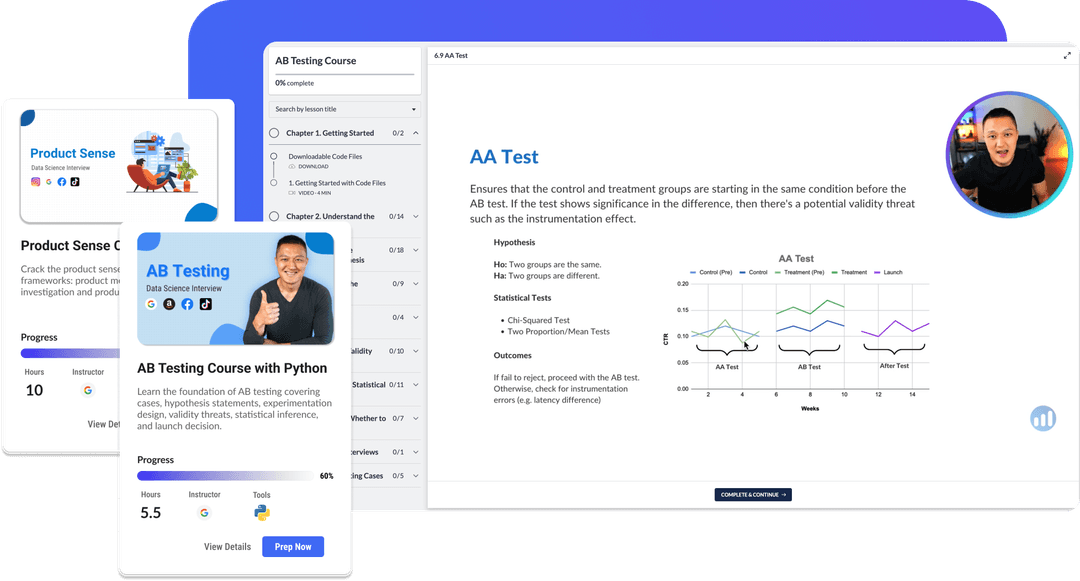 ⭐ Prep with a Coach
Prep with our coaches who understands the ins-and-outs of technical and behavioral interviewing. The coaching calls are personalized with practice questions and detailed feedback to help you ace your upcoming interviews.
Book a Session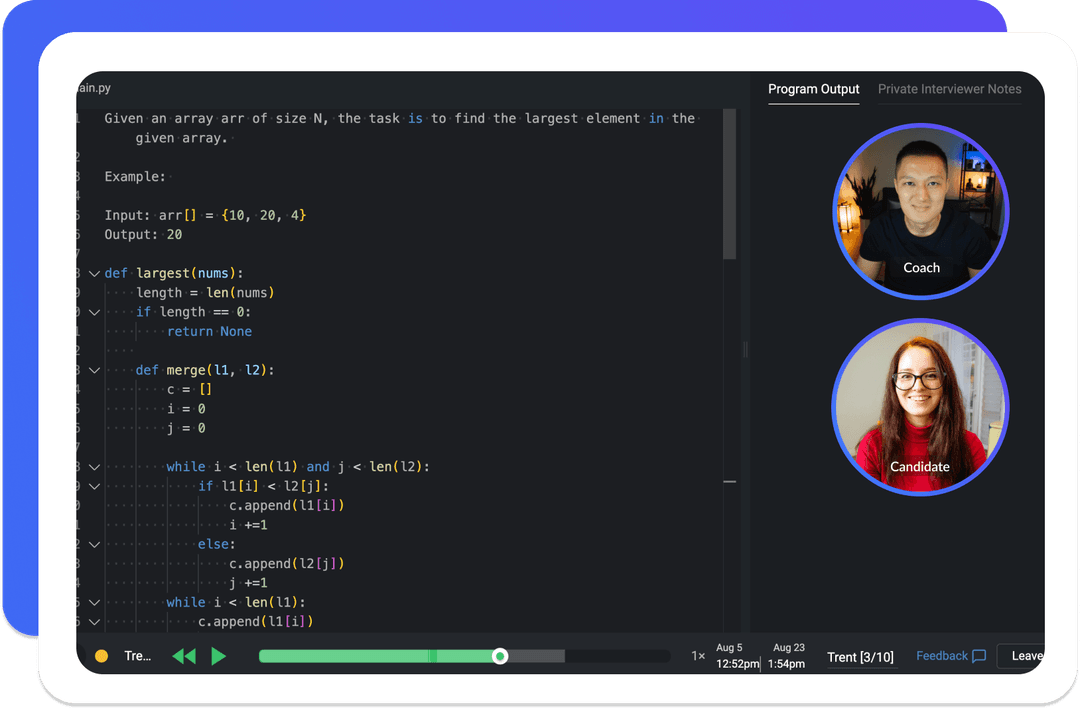 🖥️ Practice SQL
Practice 100 actual SQL interview questions on a slick, interactive SQL pad on your browser. The solutions are written by data scientists at Google and Meta.
Access SQL Pad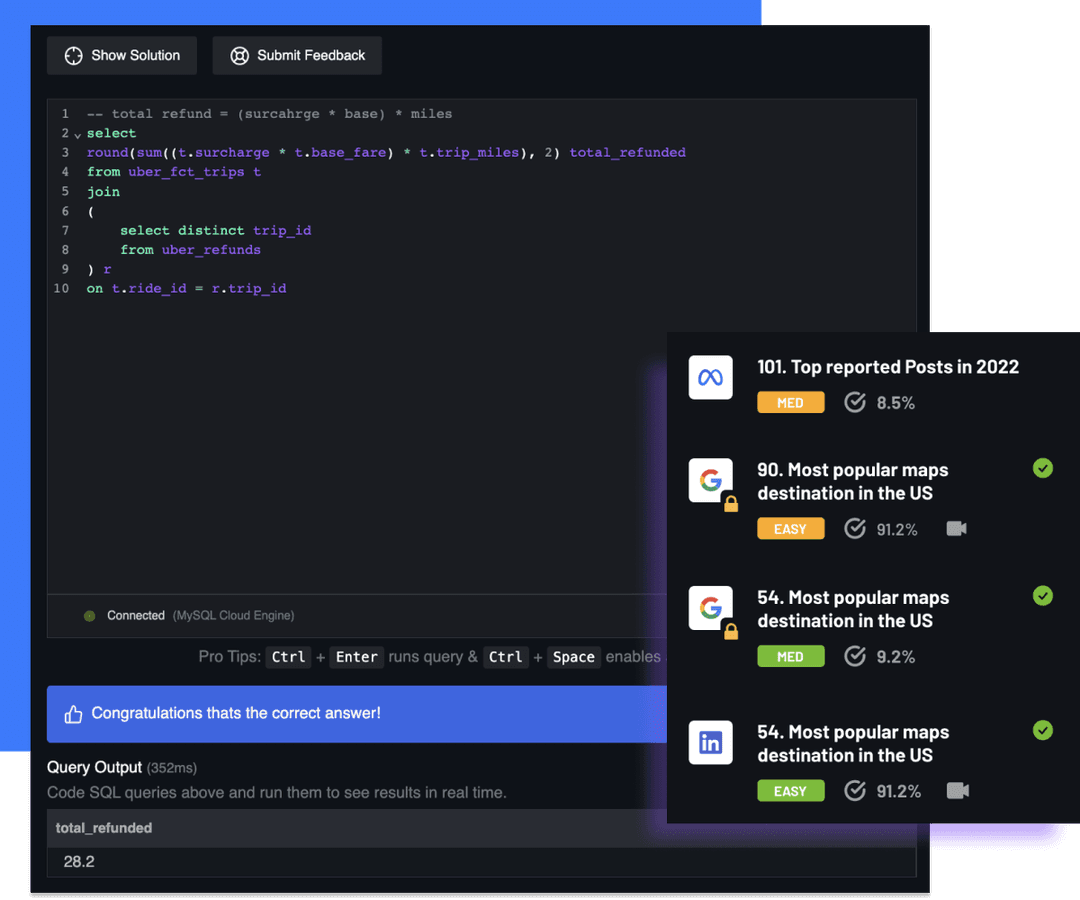 💬 Slack Study Group
Never study alone! Join a community of peers and instructors to practice interview questions, find mock interview buddies, and pose interview questions and job hunt tips!
Join Community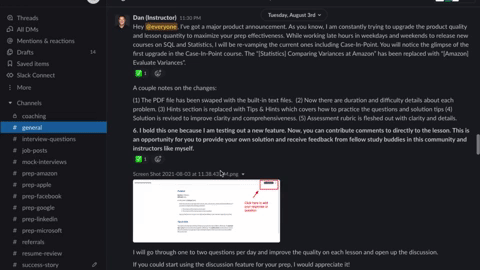 Join the success tribe.
Datainterview.com is phenomenal resource for data scientists aspiring to earn a role in top tech firms in silicon valley. He has laid out the entire material in a curriculum format. In my opinion, if you are interviewing at any of the tech firms (FB, google, linkedin etc..) all you have to do is go through his entire coursework thoroughly. No need to look for other resources. Daniel has laid down everything in a very straightforward manner.

Designed for candidates interviewing for date roles, the subscription course is packed with SQL, statistics, ML, and product-sense questions asked by top tech companies I interviewed for. Comprehensive solutions with example dialogues between interviewers and candidates were incredibly helpful!

Datainterview was extremely helpful during my preparation for the product data science interview at Facebook. The prep is designed to test your understanding of key concepts in statistics, modeling and product sense. In addition, the mock interviews with an interview coach were valuable for technical interviews.

A great resource for someone who wants to get into the field of data science, as the prep materials and mock interviews not only describe the questions but also provide guidance for answering questions in a structured and clear way.

DataInterview was a key factor in my success. The level of depth in the AB testing helped me standout over generic answers. The case studies helped provide a solid foundation on how to respond, and the slack channel gave me an amazing network to do over 50 mocks with! If you havent signed up yet you're missing out!

DataInterview is one of the best resources that helped me land a job at Apple. The case study course helped me not only understand the best ways to answer a case but also helped me understand how an interviewer evaluates the response and the difference between a good and bad response. This was the edge that I needed to go from landing an interview to converting into an offer. Get Started Today
Don't leave success up to chance.
Prep Now